Pantas and UKM to develop climate fintech solution to assist companies with calculating and disclosing carbon emissions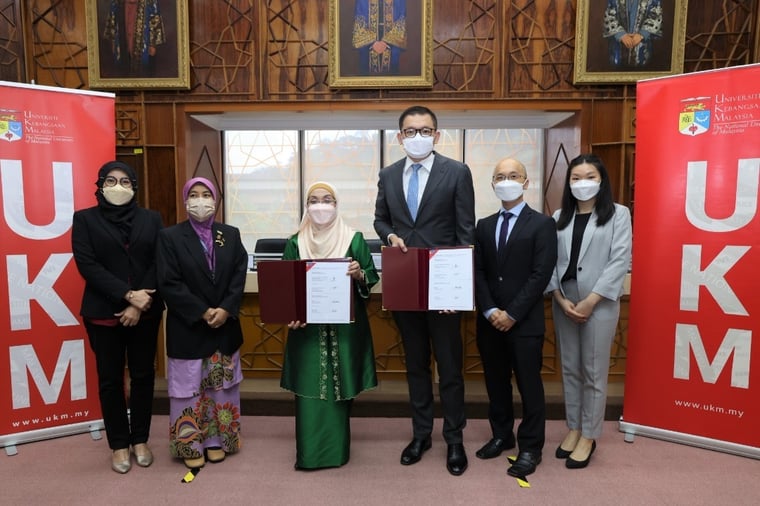 Pantas and UKM to Develop Climate Fintech Solution to Assist Companies with Calculating and Disclosing Carbon Emissions and Accessing Green Investments

Pantas and UKM have signed an MOA to develop carbon accounting software and a climate transition equity index for companies in emerging markets (EMs).
The carbon accounting software will allow companies to seamlessly calculate, monitor, and disclose their carbon emissions based on international standards.
The climate transition equity index offers investors a robust and data-driven approach to investing in companies in EMs that are acting responsibly on climate change. This index will cater to the growing investor demand for green investment opportunities in EMs.
Fintech startup Pantas has signed an MOA with Universiti Kebangsaan Malaysia (UKM) to develop a climate fintech solution (Pantas-UKM Green Solution) for companies to calculate their greenhouse gas (GHG) emissions and access green investments.
Pantas-UKM Green Solution consists of two complementary components:
Carbon accounting software: Leveraging on the proprietary data collected by Pantas' e-invoicing software and the carbon emission factors co-developed with UKM Institute of Climate Change, companies will be able to seamlessly calculate, monitor and disclose their GHG emissions without a change in their business workflow. This software is developed for users with no prior knowledge or experience with carbon accounting.
Climate transition equity index: Pantas and UKM will collaborate with financial institutions and investors to create the first climate transition equity index for companies in EMs. The index will take into account several metrics related to climate change such as carbon emissions, in generating the under- and over-weighted stocks. Companies included in this index will be able to easily access green investments.
There is a high and growing market demand for environmental disclosure. 680+ investors with over US$130 trillion in assets and 200+ large purchasers with over US$5.5 trillion in procurement spend are requesting thousands of companies to disclose their environmental data. However, companies in EMs lag behind their peers in developed markets in terms of carbon disclosure because calculating, monitoring, and disclosing carbon emissions is a complex, costly and resource-intensive process.
The MOA is a sign of commitment between Pantas and UKM in developing a science-based data-driven approach for companies in this region to fight climate change. Pantas and UKM are currently recruiting companies for a pilot program to showcase the benefits of carbon disclosure and assist them in accessing green investments. This pilot program is open for companies based in Malaysia on a first-come, first-served basis. Pantas and UKM strongly believe that raising awareness and understanding of the effects of climate change on businesses will facilitate both behavioural change and management support for the actions to reduce greenhouse gas emissions.
"Disclosure is the essential first step to drive environmental action; you can't fix what you don't know. The best way to compel companies to care about their environmental impact is to reward those that are doing the most to stem climate change with cheaper capital and financing. We are excited to work closely with the team at the UKM Institute of Climate Change to promote stronger collaborations between industry and academia in tackling climate change," said Max Lee, the Co-Founder and CEO of Pantas.

"This solution will greatly benefit the industries and organisations in Malaysia and Southeast Asia by providing them with the ability to calculate their greenhouse gas emissions," said Prof. Dato' Dr Norazah Mohd Nordin, Vice Chancellor of UKM.
---

About Pantas Software
Pantas provides companies with customised end-to-end carbon management software to measure, manage, and report carbon emissions. Pantas also enables financial institutions and investors to effectively conduct climate due diligence and manage climate investment risk.
For more information on Pantas Climate Solutions and other services, please visit pantas.com
About UKM
Universiti Kebangsaan Malaysia (UKM) is one of the top research universities in Malaysia, ranked 141th in the world. Established in 1970, UKM is a renowned national university, with 15 faculties/centres, 12 research institutes, and more than 100,000 alumni. Located in Bandar Baru Bangi, UKM currently has 3 campuses in the Klang Valley.